This event will be online, on the Skeptics in the Pub Twitch channel.
We have now discovered thousands of exoplanets around stars that are not our Sun, and we have now realised that our own solar system may be far from the norm. These alien worlds are often hot, massive, and perplexing to astrophysicists – just how do these objects form, and what processes make them different to our own?
In this talk, we will contemplate the search for alien worlds, why it is important to search for them while they are forming, and what this all could mean for finding life elsewhere in the universe.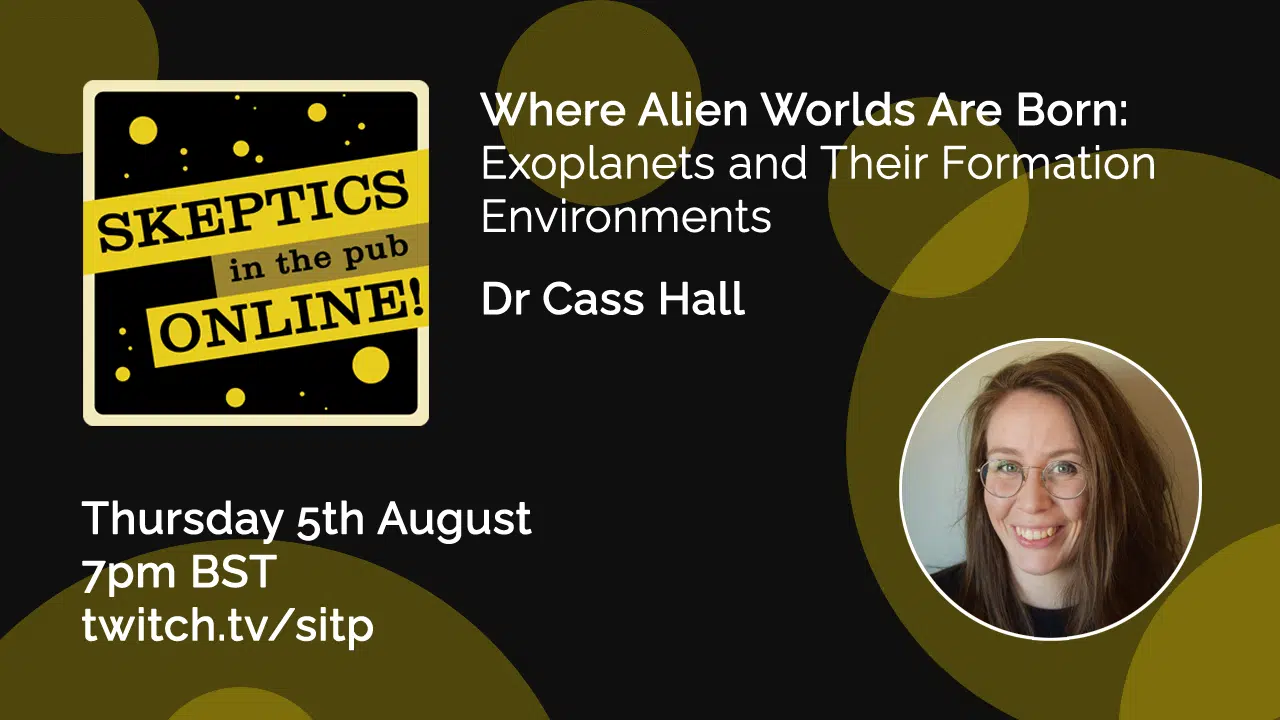 Cass is an assistant professor of computational astrophysics at the University of Georgia, USA. She uses supercomputers to study the birth environments of exoplanets. Originally from the UK, she graduated with a Master of Physics in Physics and Astrophysics from Sheffield University in 2013 and a PhD in Astronomy from the University of Edinburgh in 2017. She was awarded the Winton Exoplanet Fellowship in 2017 and relocated to the USA in 2020. In 2021, she was awarded the Royal Astronomical Society's Winton Award for early achievement in astronomy, and the University of Georgia's Lilly Teaching Fellowship with a stated focus on making astronomy, astrophysics and physics education more equitable, accessible and inclusive. Cass is passionate about issues regarding equity, diversity and inclusivity, and is on a one-woman mission to obtain a portable planetarium to bring the joys of astronomy and education to some of Georgia's most rural areas once the pandemic is over.
She completed her undergraduate degree at the University of Sheffield in 2013, where she discovered her enthusiasm for computational astrophysics under the supervision of Professor Simon Goodwin. She then completed her PhD at the University of Edinburgh in 2017 (awarded June 2017) with Professor Ken Rice, before relocating to Leicester in March 2017 as a Postdoctoral Research Associate, working with Dr. Richard Alexander on the ERC-funded project "BuildingPlansS". In October 2017, she became one of two in the inaugural class of Winton Exoplanet Fellows, which she commenced in April 2018 to pursue her own line of enquiry into our fundamental understanding of how exoplanetary systems are formed. She accepted the position as a tenure-track professor at The University of Georgia, USA in April 2020, and relocated to the USA in October 2020.
This event is being run by Skeptics in the Pub Online, a coalition of UK-based Skeptics groups. Formed as the Covid-19 epidemic brought our country to a standstill, we are working to deliver high quality online events focussing on science, reason, and critical thinking.